Business: Harrogate Daily News

Location: Harrogate & districts

Phone: 01423 206910

Description :
See below the latest news for Harrogate & Districts with local news and information in your area. Find out what's happening in Harrogate at the Harrogate Guide covering Harrogate, Boroughbridge, Knaresborough, Masham, Pateley Bridge & Ripon.
I have gathered the News below from the Internet and from press agencies that send us news updates daily. Should you find any errors, anything I might have missed or anything I can include please email info@harrogateguide.co.uk
........................................................................................................................
Welcome to Yorkshire and Yorkshire Cancer Research launched the Tour de Walkshire on 1st May with a month-long £50,000 fundraising target… which thanks to the efforts of many great Yorkshire folk has been smashed in just FIVE DAYS!
With still three weeks to go, the event's aim is to now achieve £75,000. in vital fund donations, as well as raising awareness, for this incredibly important charity and its life-changing cancer research.
The Tour de Walkshire has been an immense success, with many already signed up and thousands donating. It's even gone global with multi-award-winning actor and proud Yorkshireman, Sir Patrick Stewart, tweeting from LA to his 3.6m followers "This fundraiser will make my beloved Yorkshire even lovelier."
Further fantastic fundraisers have signed up from across the world, including California and Iowa in the US, as well as Austria, Germany and London, all with a love of our great county.
There's still time to get involved in the Tour de Walkshire, wherever you are, to walk, cycle, run or push at whatever individual distance chosen, throughout May. It's the perfect opportunity to enjoy meeting up with friends, family and colleagues outdoors, whilst raising money for Yorkshire Cancer Research.
https://join.yorkshirecancerresearch.org.uk/event/tour-de-walkshire-2021/home
Over £50,000 already raised will have a huge impact on so many people, but £75,000. would be incredible:
£75,000. could fund 150 lung health checks, helping to save lives by finding cancer at the earliest possible stage
£75,000. could provide personalised cancer exercise programmes for 225 people, helping to improve treatment and reduce the risk of cancer returning

£75,000. could connect as many as 4,500 extra people with essential screening services, which help prevent cancer by identifying cells which will become cancerous if not treated, and finding cancers early when they are far easier to treat.
A host of celebrity participants will be taking part in the #TourdeWalkshire and their involvement will be shared throughout this month. All who register to be part of this fantastic charity event will receive a FREE Tour de Walkshire t-shirt AND if you hit the £250 personal fundraising target, a Yorkshire Cancer Research bottle and a Welcome to Yorkshire Y badge will be sent to each individual as a special thank you.
Yorkshire Cancer Research is the official charity partner of Welcome to Yorkshire's #Walkshire initiative, which has captured the imagination of so many people across the county, the nation and the world, since its launch on New Year's Day. A walk for every day of the year and more, #Walkshire is the most inclusive of campaigns and can be enjoyed by all ages and abilities, with wonderful well-being and health benefits. Walkshire's popularity is immense with walkshire.com already seeing over 100,000 page views and the first week's launch figures revealed a 1.5 million online reach and 3.7 million total impressions.
Statistics show that 1 in 2 people will be diagnosed with cancer and the impact on individuals, as well as their loved ones is immense. Every week in Yorkshire, 592 people are told that they have the disease. Yorkshire Cancer Research's goal is that by 2025, at least 2,000 more people across the county survive cancer every year. Raising awareness, continued research and vital fundraising are all of the utmost importance to improve the prevention, diagnosis and treatment of cancer.
Juliet Glendinning, Director of Brand and Relationships at Yorkshire Cancer Research, said: "It's been amazing to see so many people, from all walks of life and all parts of the county, getting active, clocking up the miles and enjoying the beautiful scenery we have here in Yorkshire. We are immensely grateful to each and every person who has dedicated time and effort to raising funds to help save lives in Yorkshire – sometimes battling heavy rain and hail to reach their goal and inspire more sponsorship.
"We're thrilled that this incredible Tour de Walkshire community has managed to reach and exceed the charity's initial £50,000 fundraising target in such a short space of time. The money raised will help fund experts and world-leading researchers who pioneer early cancer diagnosis, reduce cancer risk and discover new and better treatments for cancer patients."
Welcome to Yorkshire Chief Executive James Mason said: "It's fantastic that in just five days the Tour de Walkshire's month-long fundraising target of £50,000 for Yorkshire Cancer Research has already been smashed and it's all thanks to so many fabulous folk connected to Yorkshire. The next 'step' is to reach £75,000 and to have an even bigger impact on treating those diagnosed with cancer. Come on Yorkshire … and beyond … we can do it!
As this month's annual Tour de Yorkshire cycling race had to be postponed until 2022 due to the pandemic, we wanted to create an inclusive and exciting event to bring people together (following government guidelines of course) in the great outdoors, to encourage fitness and well-being, fundraise and also raise essential awareness for an amazing charity, plus showcase our breathtaking county. The Tour de Walkshire is the perfect way to do this and will be fun for all this month, raising vital funds for Yorkshire Cancer Research, the outstanding official charity partner of Welcome to Yorkshire.
Cancer is not exclusive. Almost everyone in the county will know someone affected by cancer. As such this is a cause we should all get behind. Yorkshire Cancer Research undertake vital research to support those impacted by this disease whilst investing in groundbreaking medical advancements. We've already seen Welcome to Yorkshire's strong brand and global support helping raise a significant amount of awareness and money for this important charity. Please be part of the Tour de Walkshire. It's not too late"
Welcome to Yorkshire and Yorkshire Cancer Research are particularly proud of this Tour de Walkshire initiative, promoting the county, as well as fitness and well-being, and benefitting a crucial cause simultaneously.
For further information: https://www.yorkshire.com/walkshire/tour-de-walkshire
.......................................................................................................................
North Yorkshire libraries are encouraging people to get in touch with nature to support their mental health as part of Mental Health Awareness Week, which runs from 10 to 16 May.
The week, coordinated by the Mental Health Foundation, focuses this year on nature and the environment, inspired by the support many people have found in nature throughout the pandemic.
Each year, one in four people in the UK will experience a mental health problem, and almost half have reported high levels of anxiety because of the pandemic.
County Councillor Greg White, Executive Member for Libraries, said: "The last year has made us all more aware than ever of the importance of looking after our mental health. Libraries across North Yorkshire play a vital role in providing access to information, books and activities to help to support us and our families."
Events and promotions taking place in libraries and online during Mental Health Awareness Week include:
Travel writer Horatio Clare will discuss his memoir, Heavy Light: a journey through madness, mania and healing, online on Thursday, 13 May, at 6.30pm. Tickets are free but must be booked. Contact heather.m.french@northyorks.gov.uk
Libraries will hold displays of the Reading Well and Naturally Mindful book collections. Reading Well is a series of collections, helping people to manage their health and wellbeing through self-help books endorsed by health experts. These titles can be requested free if they are not currently available in your local library. The Naturally Mindful collection invites people to seek wellbeing in nature. Both collections are also available as e-books in the library service's digital collection.

Pick up a nature quiz from libraries across the county to test your knowledge.

If you borrow a book from Selby library during the week, you will receive a bean and growing instructions and will be invited to share your pictures as your beanstalks grow. At Northallerton library you can pick up a sunflower seed and take the challenge to grow the tallest sunflower.

Great Ayton Discovery Centre is holding a bug trail. Take the family for a walk, enjoying the outdoors and discovering more about the history of the village.

Filey library has a mental wellbeing quiz – find out just how much you really know.

Northallerton library will hold an online storytime for under-fives with a nature theme. Follow Northallerton library on Facebook to join in.
Keep an eye on your local library's social media pages for wellbeing videos, book reviews and information about health resources available at the library. You can share what you are doing, too. Staff and volunteers at your local library would love to see a picture of your favourite place to relax outdoors with a good book.
.......................................................................................................................
Schools, care homes and other council buildings will benefit from improved energy efficiency following a successful bid for almost £2m by North Yorkshire County Council.
The bid for Government public sector decarbonisation funding by the County Council's property service will fund improvements to buildings, particularly the replacement of windows, which will improve energy efficiency and reduce carbon emissions. This supports the County Council's ambition to become carbon zero by 2030. Making properties more energy-efficient is a key strand of the council's carbon reduction plan.
More than 20 schools around the county will benefit, plus council-run care homes in Pickering and Starbeck and Malton library.
The funding will also support a study of options for environmental and energy efficiency initiatives at the authority's office buildings. This will look into opportunities for green initiatives such as electric vehicle charge points, generation of renewable energy on buildings and other carbon-saving measures and building improvements.
County Council Leader Cllr Carl Les, who recently helped to launch the Yorkshire and Humber Climate Commission, said: "Climate change is a real threat to our region and collectively we need to take action to mitigate and reduce the effects.
"Opportunities such as the public sector decarbonisation fund are very welcome to help us to improve our buildings and infrastructure. We want to send a clear message that we are committed to improving our own buildings and reducing carbon from our activities."
All the energy efficiency projects will take place this year, as the Government is keen for the decarbonisation funding to support green growth and recovery.
Cllr Les added: "This expenditure is just part of the investment we expect to make up to 2030 to improve the energy efficiency of our properties and decarbonise our heating systems."
The funding is in addition to the work of the County Council's energy team with schools across the county to buy energy cost-effectively, save energy through efficiency measures and monitor energy usage. The team also educates the next generation through interactive pupil events, currently being delivered online, and the work of Power Down Pete, the team's superhero, who teaches pupils about climate change and ways to cut carbon and save energy through simple actions.
.......................................................................................................................
An extensive engagement involving teachers, local organisations, young people and residents is taking place on how outdoor learning should look in the future in North Yorkshire.
Over the next few months, the views of different organisations will be gathered through questionnaires, user groups and other channels as the County Council carries out its review of Outdoor Learning Service.
The review will determine what North Yorkshire's Outdoor Learning Service should look like in the future and what services it should provide for the county's young people.
The pandemic has had a significant financial impact on the County Council's two residential sites at Bewerley Park in Nidderdale and East Barnby near Whitby, which has resulted in the service losing the majority of its £2.25m annual income since March 2020, when the Government issued guidance to close outdoor activity centres. The closure has resulted in the service losing nearly £1m over the last financial year, 2020 to 2021.
The huts which make up the Bewerley Park estate were built as temporary structures in 1939, with an expected life span of ten to twenty years. Created mainly from wood, they have become increasingly expensive to maintain, requiring frequent repairs.
Given the investment needed at both sites, the review will look at bringing back the service after the pandemic in a way that places it on a sustainable footing, makes the best use of the site and offers a range of facilities and experiences to schools, children and young people.
Cllr Patrick Mulligan, Executive Member for Education and Skills said: "At the moment Bewerley Park and East Barnby are used largely by primary schools offering week-long residential trips involving outdoor activities such as canoeing, gorge-walking and caving.
"The review will look at what kind of activities we provide in the future, how we use the estate, the facilities we provide and how we make it a sustainable service. We're looking at this from every angle – including whether we need to work collaboratively with partners in the future, or if we are able to continue with the service as it is."
The County Council is currently engaging with individuals and organisations with an interest in outdoor learning services, including young people and other North Yorkshire residents who contacted the council after the review was announced to share their opinions, along with existing outdoor learning staff and other stakeholders.
A user group has been established, to consult with organisations and agencies that have some involvement with Bewerley Park and East Barnby, along with a project board.
Schools, pupils and young people are also involved with the engagement.
A questionnaire is also being sent to all schools in North Yorkshire, include primary, secondary, special schools, academies and Pupil Referral Services to understand which aspects of outdoor education are most important and what they would want from the service in the future. Focus discussion groups are taking place with secondary pupils, while primary school children who have visited one of the outdoor centres will be taking part in an art session looking at what worked, what could have been better and what their ideal setting would look like.
If you would like to take part in the engagement and provide your views on the kind of quality outdoor learning and residential opportunities you think should be provided for young people in North Yorkshire, email; outdoorlearningreview@northyorks.gov.uk
........................................................................................................................
A scheme to help low income families meet the cost of food for children during the school holidays has been extended, with food vouchers being provided in North Yorkshire for the May half-term break.
The Covid Winter Grant Scheme provided food voucher payments to parents and carers in receipt of free school meals, as well as those hit financially by the pandemic, to help meet the extra cost of food and other essentials over the school holidays.
The scheme has now ended, but following a recent Government announcement, payments will continue this May half-term holiday, through the Department for Work and Pensions' Covid Local Support Grant.
From Friday (April 30), North Yorkshire County Council will be sending out funding for the supermarket vouchers to schools, including academies, as well as early years providers, child minders and care leavers in North Yorkshire. The vouchers can be spent by eligible parents in supermarkets and amount to £15 per child, for the week.
The scheme ensures children eligible for Free School Meals continue to have access to food during the school holidays and schools can also use the vouchers to help other families who may have found themselves in financial difficulty due to the pandemic.
The County Council began allocating voucher funding just prior to the Christmas break. Since then it has helped thousands of families across the county.
Alison Woodward, Head of Riverside School in Tadcaster, part of the Star Multi Academy Trust, said the additional funding through the holiday periods has made a huge difference to families.
"The voucher scheme we have opted to use within our Trust was particularly useful as it has enabled our families to balance out their budgets and make independent choices – this is really important as some families feel that they have little control over the current situation," she said.
Cllr Patrick Mulligan said: "We are very grateful to the schools, nurseries and child minders for their continued help in distributing the vouchers to parents and carers in need of this support. We know the vouchers help ease the pressure on families when they are faced with increased food costs when children are not in school."
Any families not eligible for Free School Meals who are struggling financially can apply to the North Yorkshire Local Assistance Fund, which makes emergency awards for food or utility vouchers. The County Council has increased its award entitlement for emergency provision for a temporary period to help those hit hardest by the pandemic.
Find out more information on the NYLAF.
........................................................................................................................
Appeal for witnesses following violent altercation in Harrogate
North Yorkshire Police is appealing for witnesses and information after an altercation involving a group of men on Knox Chase in Harrogate on Friday 16 April around 7.40pm.
The incident involved five men of varying ages physically fighting in the street. During the incident numerous residents of the area were out in the street attempting to de-escalate the situation.
The incident was very distressing for local residents and some of the men involved suffered facial injuries.
We are appealing for anyone who witnessed the incident or has any information about it to please get in touch by calling 101 and quoting ref:12210099520.
Please note, if you have already been approached by police in connection with this incident there is no need to get in touch again.
If you wish to remain anonymous, you can pass information to Crimestoppers on 0800 555 111.
Contact details:
Charles Lonsbrough - #0768
charles.lonsbrough@northyorkshire.pnn.police.uk | 30768
Incident reference:
12210099520
........................................................................................................................
Your April digest of news from Harrogate Borough Council
This is the April edition of Residents' News
The weather has been kind to us in recent weeks, so we hope you've been able to take advantage of the easing of the lockdown rules on 12 April.
It has been good to see our town centres and shopping districts busier than we've been used to while we had to stay at home.
The next change in the restrictions is due to happen next month if coronavirus infection rates continue to be kept under control.
In this edition, you'll find out about:
How we can help you restart your fitness regime, post-lockdown
Why we don't like pizza and food boxes in your recycling
How we're investing £500,000 to support the district's tech businesses
________________________________________
Coronavirus: latest guidance
Since lockdown was eased on 12 April, we've moved a step closer a degree of normality with the reopening of non-essential retailers, personal care businesses and those in the hospitality trade.
We mustn't forget that restrictions are still in place in England. That means:
You can only socialise indoors with people you live with or who are in your support bubble
Up to six people or two households can meet outside
You should work from home if you can and minimise travel
If you have symptoms get a test and stay at home
The government website has more information about what is now permitted.
The next change in the lockdown restrictions is due to take place on 17 May, before the next edition of this newsletter will be published.
There should be a further easing of the limits on seeing our friends and family.
Most legal restrictions on meeting other people outdoors will be lifted, although gatherings of over 30 people will remain illegal.
Indoors, the 'rule-of-six' or two households will apply and the government is expected to confirm new social distancing guidelines.
In the meantime, please continue to follow the rules that apply and stay safe.
________________________________________
Come and join Team Brimhams
Now that coronavirus restrictions have eased, three of our leisure centres are open again.
You can swim at the Hydro in Harrogate and at Nidderdale leisure centre and we've welcomed back members to our Brimhams fitness centres in Harrogate, Ripon and Pateley Bridge.
We are working to open Ripon Spa Baths next month. Starbeck Baths will welcome back swimmers as soon as social distancing rules and staff resources allow.
As reported in our edition of Residents' News on 12 April, we are in contact with specialist contractors about the replacement of broken equipment at Knaresborough pool.
The reopening of our facilities means we're now recruiting staff to work in our sport and leisure services.
We have various roles available including lifeguards, a duty manager, fitness instructors and a receptionist.
There's more information in the jobs section of our website.
________________________________________
Brimhams kick start
If lockdown and the coronavirus pandemic has affected your fitness regime, we can help.
Our new 'Kick Start' programme has been created by our experts to help you get your fitness back on track and to improve your health and wellbeing generally.
It's perfect if you've not been active for a longer than usual period.
Kick Start is free to Brimhams fitness members and includes:
new, tailored, exercise plans with daily 'moves targets'
group exercise classes with easy progression for beginners and returning members
new 'body composition tools' to see your results and discuss with our trainers
If you're interested in getting your fitness back on track, visit our website.
________________________________________
Meanwhile, let us help you get Fit4Life
Fit4Life is our free 12-week weight management programme which aims to promote healthy eating and physical activity to achieve positive and sustainable weight loss.
There's more information about the eligibility criteria on our website but you need to be aged 18 or over and have a Body Mass Index (BMI) of 30 or above*.
You'll also need to live, work or be registered with a GP in the Harrogate district to join the programme and you must commit to all 12 weeks.
Fit4Life is run by our qualified health and exercise experts to ensure the course can be tailored to you. Despite ongoing Covid-19 restrictions, the programme is still running.
*If you are from an ethnic minority or you have hypertension, diabetes, cardiac or respiratory problems, your BMI can be 25 or above.
________________________________________
Shop local, by bike and support the district's businesses
Now that non-essential retailers are open again, there's never been a better time to venture back to your local high street.
It goes without saying that businesses across the district need our support more than ever.
You'll notice that social distancing measures are in place in all the district's shopping centres to ensure you – and other customers – are safe.
We've also launched a new campaign called 'Buy Local, by Bike'.
It includes a map of cycle routes in and around Knaresborough and Harrogate which you can easily access on your smartphone.
There are nine routes to choose from to help you travel to your local shops, to get to work, school or college or to simply enjoy some outdoor exercise.
So, for the first time in Residents' News, we can say 'on your bike' for all the right reasons.
________________________________________
Bank holiday bin changes
There's a bank holiday on Monday. Hurrah!
This means we're making some changes to refuse, recycling and garden waste collections.
They will take place a day later than usual next week (beginning 3 May).
The same will apply at the end of the month for the bank holiday on 31 May, but we'll remind you about that closer to the time.
Don't forget you can check your bin collection day using the In My Area section of our website.
By the way, it's not too late to subscribe to our garden waste collection service even though the season is underway.
Paying for us to take away your garden waste saves you from a pesky trip to the tip.
________________________________________
Why we don't do pizza boxes
We often get asked to clarify our position on pizza boxes. Here's the answer.
Once a cardboard box has been used to get a yummy pizza or another takeaway meal to your house, we can't accept it in your recycling.
That's because it becomes contaminated with fat, oil and or/grease from the food, and it can't be recycled with other 'clean' cardboard.
We know you like to do your bit for the environment and recycle as much as you can, but used pizza boxes, or any cardboard box that's had food in it, must go in your refuse bin/sack please and not your recycling bag.
Some pizza boxes have recycling marks on them. This usually means that they have been made from recycled materials, not that they are recyclable once used.
If you're ever unsure about the bin/box/bag/sack your waste should go in, please see our website.
________________________________________
£500,000 investment in new digital incubator
Work will begin next month to create a new digital business 'incubator' in Harrogate.
We're completely refurbishing part of Springfield House, on the convention centre site, at a cost of £500,000.
The investment will create flexible working spaces to suit individual or small businesses in the tech, digital and media industries.
There will also be meeting and event space and a business support hub for workshops and one to one advice and training for new and growing businesses.
At the same time the existing toilets and kitchens will be replaced.
We announced plans for the refurbishment back in 2019 and had hoped the work would have started last year.
However, the project was put on hold when Harrogate Convention Centre was transformed into an NHS Nightingale Hospital to support the national response to the pandemic.
A company from York won the competitive tender to carry out the work.
You can find out more about the incubator on the project website.
________________________________________
Misleading reporting in the media
We don't like taking issue with journalists as we believe a free press is good thing.
However, we will always challenge misleading or inaccurate reporting.
A local community news website has published misleading content in recent days.
It ran articles on its channels suggesting we have "spent £632,000 on staff pay out packages over the last two years" and that "the figure has prompted a review".
This simply isn't true.
The £632,000 largely relates to the costs associated with compulsory and voluntary redundancy over a two-year period and includes the cost of things such as pension contributions.
To imply we've given cash to everyone who has left the organisation is ridiculous.
Our governing document – called the constitution – allows for senior managers to be given delegated powers to approve settlement agreements in certain situations when someone leaves.
Our auditors recommended this approach should be reviewed to ensure it's still appropriate, and we are happy to do that.
The same media outlet – and a regional newspaper - also published misleading content relating to the cost of external expertise brought in to support a case for change to local government in North Yorkshire.
The UK government wants to reorganise the way council services are structured here.
We worked jointly with the other six district and borough councils to develop a proposal which would see the county being split in an 'east and west' model of two unitary authorities.
This was an extensive piece of work which required professional input, detailed analysis and research along with public consultation and modelling.
The £330,000 cost was shared by all seven district and borough councils. Our contribution was £40,000.
The reporting of this issue by the community website, and the newspaper, and their use of photography, gave the impression that we footed the entire bill. This is not the case.
We are pleased to be able to correct both these issues in this newsletter.
________________________________________
Scam alert: don't let criminals get your cash
There are two scams to warn you about this month.
The first relates to the government's national coronavirus support scheme. We've had reports from some businesses that messages – supposedly from us – have been sent.
While it's not unusual for us to use email, we will never ask you to part with any personal information.
We've also heard that criminals are calling – or sending text messages – about council tax refunds.
The caller, or the text message, encourages the council taxpayer to part with their bank account details or security information so that the "refund can be processed".
Our advice is to hang up and/or delete the message.
If for some reason you ever overpay your council tax, we will issue a new bill. Refunds are paid into bank accounts automatically if you pay via direct debit.
Don't let scammers get hold of your hard-earned cash.
If you're ever unsure about the authenticity of a phone call or text message that claims to be from us, please speak to our customer services team on 01423 500600.
For more information about how to protect yourself from scams please visit the Action Fraud website.
________________________________________
Police, Fire and Crime Commissioner election
An election will take place on Thursday (6 May) to select a new Police, Fire and Crime Commissioner for North Yorkshire and York.
There are four candidates:
Philip Allott from Knaresborough is standing as The Conservative Party candidate
James Barker from York is standing as the Liberal Democrats candidate
Alison Hume from York is standing as the Labour and Co-operative Party candidate
Keith Tordoff from Harrogate is standing as an Independent candidate
________________________________________
Harrogate Bilton and Nidd Gorge by-election
A by-election will take place on Thursday (6 May) to select a county councillor in the Harrogate Bilton and Nidd Gorge ward.
There are six candidates:
Harvey Alexander, Independent
John Hall, Yorkshire Party
Andrew Kempston-Parkes, Liberal Democrat
Tyler Reeton, Labour Party
Matt Scott, Conservative Party
Arnold Warneken, The Green Party
Unfortunately, it's too late to register to vote to take part in either election if you haven't already.
________________________________________
Come and join Team Harrogate!
We think Harrogate Borough Council is a fantastic place to work, but then we're slightly biased!
As well as amazing colleagues, we offer competitive salaries and a range of other benefits.
We're always looking for new people to join the team and regularly advertise the roles available at the council.
Right now, we're recruiting:
A duty manager to join our Brimhams fitness team
A receptionist within our culture, tourism and sport service
A fitness instructor at Ripon leisure centre
An attendant at Turkish Baths Harrogate
An exhibition and collections curator
Lifeguards
Please visit our jobs page for all our latest opportunities.
We look forward to receiving your application.
………………………………………………………………………………………………….
Captain Tom 100 – Your 100 Challenge Your Way - Friday 30 April - Monday 3 May 2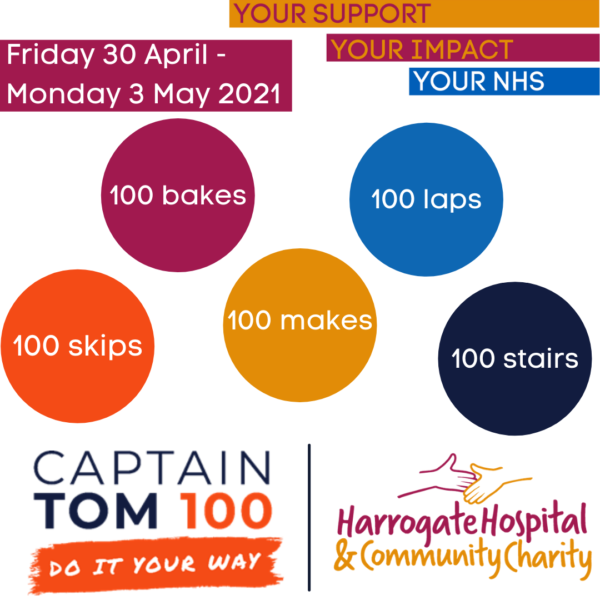 HHCC are excited to celebrate the life of Captain Sir Tom Moore. You may have seen or heard about the campaign that has been established to celebrate the life of Captain Sir Tom? This is an event that anyone can get involved with to celebrate his generosity, hope and sense of fun.